Jahrestagung der Paläontologischen Gesellschaft 2019
15.–18. September 2019 in München

Link to english-version
Wir freuen uns, die 90. Jahrestagung der Paläontologischen Gesellschaft (PalGes) vom 15.–18. September 2019 in München ankündigen zu können. Die Tagung ist als internationale Veranstaltung geplant, auf der Spitzenforschung aus der Paläontologie, Geobiologie und Paläobiologie präsentiert werden soll. Die PalGes ist eine der ältesten und größten paläontologischen Gesellschaften weltweit. München richtet die Jahrestagung nun zum fünften Mal aus (1950, 1960, 1985, 2010, 2019).
München, am Fuße der Alpen gelegen und von pittoresken Seen umgeben, ist Bayerns schöne Hauptstadt und gilt als eine der lebenswertesten Städte der Welt. München ist für seine Museen und Biergärten ebenso bekannt wie für seine Spitzenforschung in den Naturwissenschaften. Unmittelbar nach der Tagung beginnt das Oktoberfest.
Organisation und Sponsoren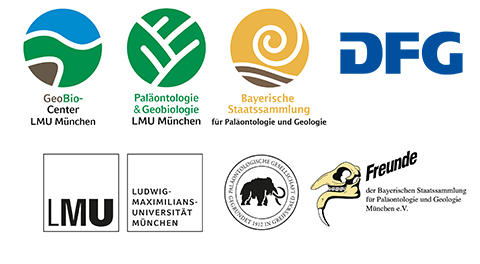 Veranstalter
Ort
Department für Geo- und Umweltwissenschaften & Paläontologisches Museum
Richard Wagner Str. 10 und Luisenstr. 37
80333 München
Organisationsteam
Alexander Nützel
Carolin Haug
Joachim Haug
Michael Krings
Oliver Rauhut
Mike Reich
Bettina Reichenbacher
Gertrud Rössner
Gert Wörheide
Kontakt
Ella Schönhofer, 089/2180 6630 (Sekretariat)
Alexander Nützel 0049-089/2180 6611
palges2019@palmuc.org
Registrierung und Einreichung von Abstracts
1. Schritt: Eröffnung eines Benutzerkontos (user account)
2. Schritt: Registrierung (registration)
3. Abstracteinreichung (unter Your Submissions)
Hier registrieren
https://www.conftool.org/palges-tagung-2019/
Bei Zahlung durch Überweisungen bitte Reason for transfer: ID YYYY, PalGes Tagung 2019-YYYY, PalGes Tagung 2019 angeben!
Teilnahmegebühren
Early Bird
(bis 30. Juni)
Spätbucher
(bis 15.8.)
Regulär, Mitglied PalGes oder GfbS
210 €
240 €
Regulär, nicht Mitglied
270 €
300 €
Student, Mitglied PalGes oder GfbS
80 €
110 €
Student, nicht Mitglied
125 €
155 €
Exkursion
40 €
40 €
Konferenzgebühren enthalten das Conference Dinner und den Icebreaker
Mitglieder der Paläontologische Gesellschaft (PalGes) oder der Gesellschaft für biologische Systematik (GfbS) zahlen ermäßigte Gebühren. Werden Sie Mitglied, erhalten Sie eine Ermäßigung und unterstützen Sie die Paläontologie! https://www.palges.de/
Deadlines
Abstract und Early Bird-Anmeldung: 30.6.2019
Registrierung 15.8.2019
Abstracts enthalten
Name der Autoren
Adressen
Nicht mehr als 300 Wörter
keine Abbildungen
kein Literaturverzeichnis
Young Scientist Award
Nachwuchswissenschaftler und Nachwuchswissenschaftlerinnen (early career scientists) können sich auf den Young Scientist Award (YSA) für den besten Vortrag bewerben (1. Preis: 500€, 2.Preis: 300€, 3.Preis: 200€). Laut EGU sind early career scientists (ECS) undergraduates oder postgraduates (Master/PhD) Studierende oder Wissenschaftler bzw. Wissenschaftlerinnen, die ihren höchsten Abschluss (BSc, MSc oder Promotion) innerhalb der letzten sieben Jahre erhalten haben (Erziehungszeiten können berücksichtigt werden).
Falls Sie sich bewerben, klicken bei der Abstract-Einreichung auf "Young Scientist Award"!
Symposien und Workshops
Symposien


Evolving ecosystems (Organisation: Alexander Nützel & Joachim Haug) Details
Fossil fishes in the context of evolution, environments and biogeography (Organisation: Bettina Reichenbacher, Tomas Přikryl & Gloria Arratia)
Details
Mikropaläontologie (Organisation: Anna Pint)
Molecular Geobiology and Paleobiology (Organisation: Gert Wörheide, Dirk Erpenbeck, Sebastian Höhna, William Orsi)
Physiology in Deep Time (Organisation: Uwe Balthasar, Kenneth De Baets, Carl Reddin, Nussaïbah Raja Schoob)
Details
Workshops
Open data analysis and publication: from morphology to evolutionary patterns (Conveners: Emilia Jarochowska and Kenneth De Baets; Guest speakers: Melanie Hopkins & Stephan Lautenschlager) Details
Total-evidence divergence time estimation from extinct and extant taxa (Convener: Sebastian Höhna) Details
Exkursionen
Vorexkursionen, 15. 9. 2019
Wirbeltierpaläontologische Grabung Hammerschmiede, miozäne Molasse; Leitung: Madelaine Böhme
Die oberjurassischen Plattenkalke von Solnhofen und Eichstätt (mit Besuch des Solnhofer Museums); Leitung: Martin Röper
Nachexkursionen, 19. 9. 2019
Paläontologie und Geologie des miozänen Nördlinger Rieskraters (mit Besuch des Rieskrater-Museums); Leitung: Stefan Hölzl
Vorläufiges Programm
Tagungssprache ist Englisch, in Ausnahmefällen Deutsch.
Sonntag, 15.9.2019
Arbeitskreistreffen, Vorstands- und Beiratssitzung, Vorexkursionen
ab 16:00 Uhr Registrierung
ab 18:00 Uhr Icebreaker
Montag, 16.9.2019
8:00 Registrierung
9:00–18:00 Auftakt, Plenary-Vorträge, Vorträge, Postersession
18:00 Mitgliederversammlung
Dienstag, 17.9.2019
8:00 –16:00 Vorträge

18:00-19:15 Öffentlicher Abendvortrag "Der Planet Erde und seine allerersten Bewohner" des bekannten Astrophysikers und Wissenschaftsjournalisten Harald Lesch
(Foto: Gerald v. Foris)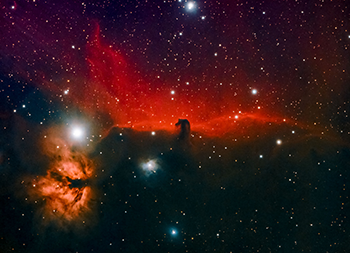 Pferdekopfnebel (Foto: Christian Schulbert, Erlangen)

19:30 Conference Dinner im Botanischen Garten
Mittwoch, 18.9.2019
8:00–16:00 Vorträge, Abschlussveranstaltung mit Plenary-Vortrag, Preisverleihungen
Donnerstag, 19.9.2019
Nachexkursionen, Arbeitskreistreffen
Plenary Talks, vorläufig


Per Ahlberg, Uppsala: New light on the origin of tetrapods
Gloria Arratia, Lawrence: Fishes in a temporal dimension. Origins, radiations, and extinctions
Donald E. Canfield, Odense: Life at Low Oxygen
William A. DiMichele: Washington, DC 20560: Late Paleozoic xeromorphic floral elements as upland, extrabasinal, and/or paleoclimatic indicators, and why it is important to clarify the confusion surrounding these concepts.
Olga Otero, Poitiers: Fish fossils and the reconstruction of continental paleoenvironments
Jakob Vinther, Bristol: The evolution of Spiralia using genomes and fossils
Wichtig: Wir bitten alle Teilnehmerinnen und Teilnehmer rechtzeitig ein Hotel oder eine Wohnung zu buchen. München wird im Herbst von zahlreichen Besuchern frequentiert, so dass vor allem günstigere Zimmer knapp sein können. Hotel-Informationen siehe http://www.muenchen.de/hotel
Biomin XV: 15th International Symposium on Biomineralization
Vor unserer Tagung findet dieses interessante Symposium ebenfalls in München statt (9.–13. September 2019);
eine Teilnahme an beiden Meetings ist sehr zu empfehlen: www.biomin2019.de
Zusätzliche Informationen zu Symposien und Workshops
Symposien
Evolving ecosystems
Organizers: Alexander Nützel & Joachim Haug
It is clear that ecosystems change over time. The possible reasons for that are manifold. First, environmental conditions such as climate or palaeogeography changed over time. At the same time the players i. e., the organisms evolved and new adaptations and ecological niches formed. Mass extinctions may have acted as game changers during this complex process. Our symposium aims to describe and interpret such changes. Case studies from all realms, both terrestrial and marine, and from all time intervals would be welcome as well as analytical big picture contributions.
Fossil fishes in the context of evolution, environments and biogeography
Organizers: Bettina Reichenbacher, Tomas Přikryl & Gloria Arratia
The total number of living fish species is approximately 33,600, which accounts for about 50% of all living vertebrate species. Exploring the evolutionary history of this unique diversity is not only a current issue for palaeontologists, but also provides key information for a general understanding of present-day aquatic ecosystems. Our primary goal in organizing this symposium is to exchange results of current studies and how these contribute to our understanding of the evolutionary history of fishes. We welcome oral or poster contributions dealing with the evolution, environments and biogeography of fossil fishes from all Periods and from all over the world. The more we know about the fossil record of fishes, the more engaging the questions will be. Our second aim is to gather the paleo-ichthyological community to increase communication and collaboration among colleagues.
Physiology in Deep Time: from proxies to evolutionary trends
Organizers: Uwe Balthasar, Kenneth De Baets, Carl Reddin, Nussaïbah Raja Schoob
Organisms with different physiologies are expected to respond differently to global environmental changes. Future environments may resemble conditions that have not existed for millions of years. To assess strategies and conditions tolerated by particular organisms, it is necessary to understand how biomineralization, body size, environmental tolerance, metabolic rates, and physiological responses relate with the paleoenvironmental changes in the deep past. To address these questions, relevant proxies from modern organisms need to be combined with the fossil record. We welcome contributions focusing on individual groups, time-intervals, or large-scale temporal or organismal patterns across the geological record.
Workshops
Open Data and Analysis: from morphology to evolutionary patterns
Organizers: Kenneth De Baets & Emilia Jarochowska
Guest speakers: Melanie Hopkins (AMNH; part of PCI Palaeontology and PBDB), Stephan Lautenschlager (best practices for big data and 3D pdfs)
A key aspect of scientific research is reproducibility. This is also the case for paleontological research focusing on evolutionary or morphological patterns in deep time. Particularly relevant meta-data including sample size, qualitative and quantitative morphological information, stratigraphic and taphonomic context as well age constraints can be crucial to verify scientific studies and make them reusable for further scientific research. There is an increasing number of possibilities to make data and research available, ranging from large-scale database and novel publication opportunities to platforms which allow storing large data volumes. In cases where competition might be an issue, such platforms also allow embargoed access during initial research or peer review with a code of conduct. There are additional opportunities allowing publication of preprints (before peer-review). Among other advantages, preprints may be a way to preserve valid scientific data which led to negative or inconclusive results that would not get published otherwise. The focus of this workshop is to highlight importance of new methods to improve scientific reproducibility and discuss best practices to share research. We invite contributions concerning the methods and tools fostering data sharing and reproducibility, positive and negative case studies, and all voices and opinions concerning the current obstacles and potential solutions in palaeontology. We plan to close our workshop with a joint discussion on future of Open Data and Analysis in our field.
Total-evidence divergence time estimation from extinct and extant taxa
Organizer: Sebastian Höhna
Introduction to RevBayes, Bayesian inference, phylogenetics, etc
Estimating divergence times from molecular data only
Estimating divergence times from molecular data and fossil occurrences using the fossilized-birth-death process
Estimating divergence times from molecular and morphological data using the fossilized-birth-death process